Uber
&

Beat, two different cases, one same pattern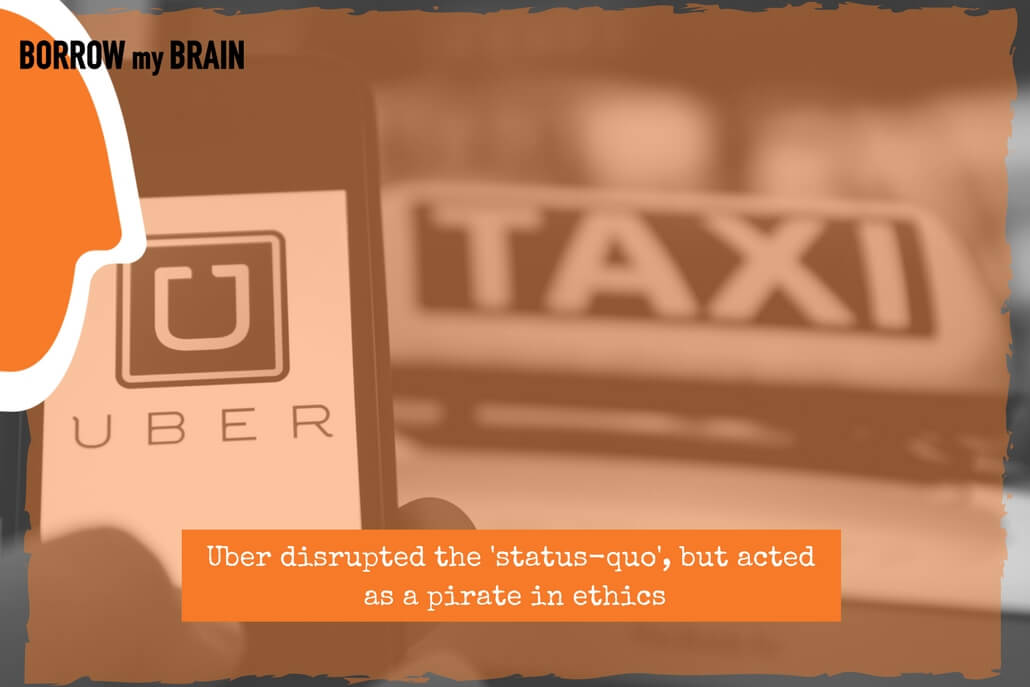 Uber & Beat, two different cases, one same pattern: although modern business models and young companies, they don't have in place a public affairs program to manage sever issues and a permanent corporate communication platform. Uber was hiding on its accussations, Beat possibly didn't own the competence. But what's at stake, if your company strategic direction isn't your main public theme?
Uber & Beat, two different cases, one same pattern
They don't have in place a public affairs program to manage sever issues and a permanent corporate communication platform. Uber was hiding behind excuses when accused, and Beat possibly didn't own the competence. But what's at stake, if your company direction isn't your main public theme?
The issue at hand is of great interest to me, having tried for years to educate and instruct companies and leaders on the importance of this type of work; forging a relationship with various publics, conveying clear what do you stand for and where do head at.
Back to basics: Corporate communication
Effective corporate communications are essential to convey the purpose of a business. It is a journey of intelligent two-way dialogue, to influence behavior, drive productivity and attract, inform and engage audiences. You have to communicate the purpose. The objective. The goal. The end-game, from the start. But more than that, you have to evangelize it. Preach it. Inspire employees to achieve it.
Uber and Beat, the two disruptive solutions in the transport industry, failed to own an external outreach Communication plan about their purpose in a sustained, consistent, repetitive way. In tech terms, I would say they neglected to have an omnichannel to communicate the purpose.
Back to basics-II: without a plan, you don't win
Any communication plan is your route to the final purpose; the usual "how" and the "what." Now, here's one tip: if you have effectively communicated the purpose, it is ok to change the plan, if something critical happens. Then, your employees will follow. Your redirection will be successful. You will still reach the end game. Achieve the objective. Win.
Uber was portraying to be a 'hype', the modern, global, arrogant (American) solution. Lots of interviews and native ads, interviews and CEO succession stories – funding, investors and so many intriguing stories around the brand. But it was failing for three years, reading through media, to answer accusations and issues for its model. Drivers? Safety? Contracts? Taxation? Operational model in the country X? Nothing!
If your only definition is "I'm a modern solution, I'm global and new, follow me" then you only create the conditions for Apathy, Disengagement, Distrust. After 30 years of top-projects I've handled and many crises, I can tell you loud: Trust was, is, and will be the currency of the future. It affects brand perception, solutions, and propositions, marketing, sales, online.
Beat (former Taxibeat) is a Greek startup, now already a more mature and experienced company, which has made us all proud in my country. They've launched low-key (no major media fuss and big-bang); they've concentrated on their development (app, UI, expansion, new countries etc). It proved recently that they didn't have in place the corporate communication and public affairs technical skills.
They found themselves accused (no real grounds) by the government and only then, reactively, they've started being visible in social and offline media. It's like having a military force, that moves only after the enemy's attack. So you have to defend your area in the 'war field', but you also need to "hold that bridge"; "take that hill." Beat with a solid management, a humble and hard-working CEO and in expansion mode didn't have inclusive corporate communications strategy:
Non-visible Leadership (isolation?)
Low "Truth-Telling" and Brand advocacy by its employees (visible in public, online?)
Low Public Affairs activity and issues management proactively (to all stakeholders before something …happens)
External communication with customers, IT vendors, distributors, investors, government agencies, etc. (publicized letters, policy papers, online).
Ethical stance, part of brand culture
Uber seems to me (by its public communications tone of voice and tactics) as a 'pirate'; possibly translating the American business speed and attitude into careless engagement with national state laws. It was accused of not paying taxes, avoiding to setup affiliate offices and be part of the local economies. That said, in large explains why the company has been kicked-out from UK, Germany, Russia.
Beat, on the other hand, follows a more reliable and ethically responsible business approach, conforming to local legislation and acting as a responsible company. But it strongly talked about this in public, only when it found itself under pressure from the Greek leftist government when the latter tried to impose barriers to the company in favor of the taxi (old-cabs) regulated monopoly.
The role of government and regulation in Uber and Beat examples
Governments (UK, Russia, India, Greece) are all hostile to new business model. Period! They are also unaware and uninterested to form 21-century regulations that incorporate new context, issues, and modern aspects of governance.
No matter if we talk of Uber, or Beat or any other startup, the role of government is to facilitate society's pass over to the next (Economy 4.0) age. There are real needs to govern and legislate for data privacy, personalized experiences, security, e-taxation, peer-to-peer economic transactions, e-payments, that government old-logic officials are unaware of, so policies can't be flexibly adjusted.
Public affairs messaging was used after crisis
When both companies were found in the fire of crisis, Uber in London and Beat in Greece, only then they activated their public affairs agenda and argumentation. It was only then that they engaged towards media (loud and clear) and tried to ignite goodwill or tolerance sentiments.
But this is a failure practice under crisis. If a company misses on creating -well before- support and advocacy (through practices, donations, thematic umbrellas, proper information, and statements), in the period of the crisis there's only reactive messaging defending your positions, but not building so much credibility.
Both companies, for different reasons, went into the "crisis phase" with messaging that wasn't possible to mitigate positive or negative stances. When media flow your story (even positive reportages), it's too late to act. Beat was more dynamic, loud-voiced, credible pushing the argumentation it should have spread months ago.
It is the same thing that happens in all crises and to all company leaders: they don't ever believe, it will ever happen to them! "We have more serious issues to attend to now, leave that for later…"
If You don't shape your story, someone else will
My golden rule of public relations is that "if you don't shape your story someone else will." We see this in politics, sports, allegations, energy, banking, retail complains all the time.
Stimuli to discuss and share
"Regardless of the changes in technology, the market for well-crafted messages will always have an audience."

Steve Burnett
Learning for young startups
It's obvious that young startups which grow to be companies of full operations miss competence and know-how on the proven practices of the 'old' corporate world like Crisis preparedness and mitigation plans. Corporate communications are needed to build Trust platforms in the global and local territories they will activate, bridging to stakeholders, to influence networks and political/institutional leadership.
Sometimes they seem like believing that they'll face only goodwill and public support as if they're heroes of entrepreneurship. This isn't true at all. There are so many hidden issues in the startup world (privacy, transactions, employee conditions, taxation, regulations, legal and consumer rights…) that you never know where you next crisis waits.
Learning for company owners
You often hear the bloody fool and amateur reactions like "But We Have Email", "We've opened comments to our Blog" – implying that they do have an open channel for audience dialogue.
Don't think that an e-mail, comments, and newsletters fit the purpose without a long view and the right narrative of your company's direction. Don't even think that your monthly team meetings are meaningful unless you have advocacy and ambassadors redistributing the message out there. These are personalized and unstructured approaches, invented by some manager who isn't trained to handle the influence game.
Audiences don't know what do you do inside and they don't care. They simply observe, read, analyze what they see you do. Some months ago I was called to a job interview with a new Fintech company, which showed me they don't have in place any corporate communication plan and they don't intend to have one! But they were challenged already by the fast talent acquisition they do in the 'old-corporate' world …"we need a bonding culture".
Leadership
Uber was hiding from media, stakeholders, and agencies once more, as it did for three years, in view of the London/UK regulator, "kicking the company out", trying to convey the message "we're not doing anything wrong", and "we will appeal the decision". Perception: "they don't explain the core of accusations" (I know, I've been for long fighting with complacent agoraphobic managers on the BS of reactive statements).
Beat on the other hand, it showed real leadership. The company's CEO was active and loud in all national media, even pushing a charge.org petition and social media. Loud voice, credible, explaining the case and asking for support from the public.
Uber is one of those cases, where you don't know "who's behind". Expert tip for all young starters or established companies (for their C-level profiling): in all the surveys I've seen in my years, the public perception reaction "who's behind… X company" is still relevant! What the audience wants to know isn't a name, but a personification of company's values and a perceived safety of interests. The Uber CEO didn't -for example- cared to give a central, global interview to mitigate on the UK regulator rationale, who wrong or right hurt the company's reputation.
Closing
I don't write this piece because I was for long into corporate communications, but because Trust worries me. The absence of it is creating goodwill or unfavorable conditions in the wider economy. Any company who's failing to build it, by intention or by mistake, troubles the entire market and citizen-consumer reactions and cycles.
This post is also available in: Greek